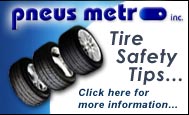 Tire Installation...
We specialize in the sale and installation of passenger car, performance and light truck/SUV tires, as well as custom wheels. We provide complete under-car services for both foreign and domestic vehicles. Whether you're seeking a basic set of replacements for your family car, van, or truck, or specialty performance tires, our knowledgeable team will help you make the perfect selection. Pneus Metro sells and services Michelin®, BF Goodrich®, Uniroyal®, Bandag®, Bridgestone®/Firestone®, and Pirelli® products. We will install and balance your new tires using the latest tire changing equipment. Our technical staff is trained to protect your tire and wheel investment during the mounting process while providing a quick, safe and complete installation.


Tire Balancing...
Your tires must be properly balanced in order to enjoy a smooth, comfortable, and safe ride. We balance tires for a variety of vehicles. Tire balancing will eliminate vibrations and shaking as well as improve tire wear. We service passenger cars, light truck and commercial trucks (on and off truck). Maintaining the tire balance on your vehicle is critical to receiving satisfactory service from your tire investment. In addition to a providing a smooth ride, balancing is a key component in tire wear.


Brake Services...
Brake service Includes disc pad or brake shoe replacement on front or rear wheel, using quality pads. We can also provide disc and drum machining.


Suspension...
Proper and adequate suspension maintenance is the key to continued suspension performance. We test and inspect all suspension components for wear including ball joints, shock absorbers, control arms, bushings and struts.


Wheel Alignment...
The wheel alignment is very important to the performance of your tires, the ease of operation, and your safety. Our 4-wheel laser alignment services use state-of-the-art equipment to ensure that your alignment is set to optimum factory specifications. Proper wheel alignment ensures your vehicle runs straight down the road without pulling to one side or the other, improves tire wear and fuel economy and foremost increases your safety.


Oil Change...
An oil change is the best thing you can do to preserve the health of your automobile. It's a complete oil fluid and filter preventative maintenance program that takes only a few minutes. To keep your oil clean and your engine healthy, a good rule of thumb is to change your oil and filter every 3 months or 5,000 kilometers. An engine will perform better and last noticeably longer with punctual oil and filter changes.