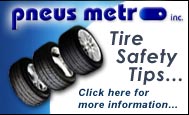 Recognized as one of the leading tire specialists in Canada, Pneus Metro Inc. has been in the tire business for over 35 years! The team at Pneus Metro offers a complete range of tires and services for passenger & touring vehicles, light trucks and trucks. Pneus Metro Inc.'s

mission is to provide our customers with the highest quality products and service for their particular needs, within an overall tire/service management system, designed to focus attention on driving your operating costs down. We do this by partnering with our customers and vendors; constant training; and by fostering an open minded spirit of cooperation and team work, while operating within a framework of fairness and integrity.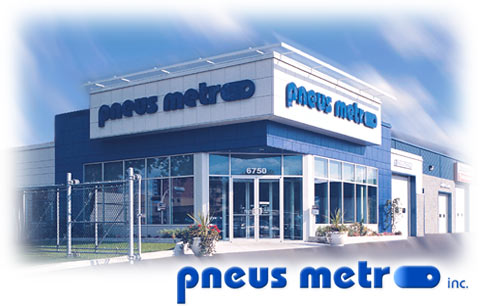 Drive Safely With Pneus Metro! Our company has recently relocated into much larger ultramodern premises. Our facility now covers over 80,000 square feet including a vast showroom, numerous service bays, a rim-refurbishing facility utilizing state of the art technology equipment located within a huge warehouse are all now available to better serve our customers and fleets. Our quality of service and a continuous improvement and expansion programs, ensures that we keep ahead of the competition. As one of Canada's leading tire products distributor, we're focused on providing only quality products from the most reputable manufacturers. Pneus Metro sells and services Michelin®, BF Goodrich®, Uniroyal®, Bandag® and Bridgestone®/Firestone® products. Retreading of industrial and commercial tires is an important integral part of our business, and in fact, Pneus Metro is one of Canada's largest retreader of truck tires, using the world-famous Bandag® process. Our vision of excellence is backed by our technologically advanced manufacturing facilities and testing capabilities.