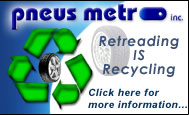 Alliance® Tire Professionals Network


Pneus Metro is a certified Alliance Tire Professional and committed to providing you the best technical advice and professional tire service. The Alliance Tire Professionals carry a complete line of tires in several famous brands such as Michelin®, BFGoodrich® and Uniroyal®. Our competent, highly trained and friendly staff will make your tire buying experience a pleasant one.


Website: http://www.alliance-tires.com/



Bandag® Inc. has achieved ISO 9001- 2000 certification. With ISO certification, you can once again rest assured that Bandag® products are quality driven. Pneus Metro is a full service independent dealer for Bandag® whose principal activities are to manufacture, sell and maintain new and retread tires to commercial and industrial customers. Today, Bandag® retains its position of leadership as the # 1 precured/cold process tire retreader in the world.


Website: http://www.bandag.com/



TRIB®- Tire Retreading Information Bureau



Pneus Metro is a member of TRIB® - The World's # 1 source for information about tire retreading and repairing. TRIB is a non-profit, member supported industry association with hundreds of members in North America and in many countries around the globe. Their goal is to provide the motoring public (both in sthe private and public sectors) with the most up-to-date information about the economic and environmental benefits of tire retreading and tire repairing.


Website: http://www.retread.org/